There are different ways to you earn your motion graphics salary, you can be an employee or a freelancer, but one thing never changes:
Motion graphics are handmade work, and this always fascinated me.
Each animation encompasses hundreds of details. Each frame is helpful to translate what our client needs to convey into sounds and images.
This article has a video version with updated information
Likewise, I have always been puzzled by how this whole endeavor, which often requires several weeks to work solely on a single video, serves just one customer.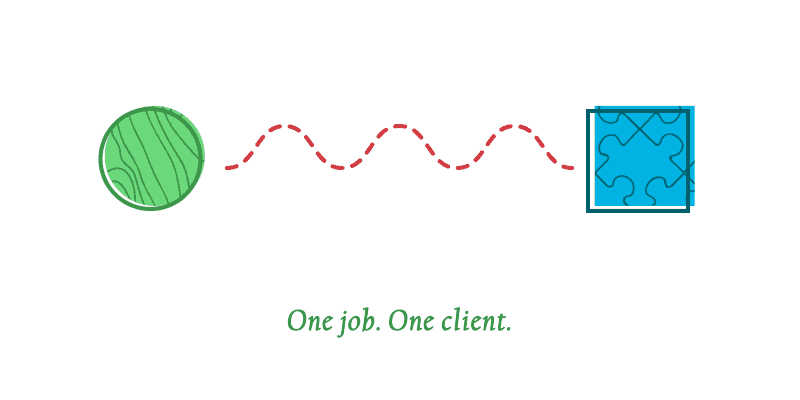 That made me a bit discouraged, as sometimes I worked on complex solutions to create more interesting animations, and all that work ended up forever lost in a hair dryer commercial.
No one would never watch that again, and I would never win a dime more for that endeavor.
How could I raise my motion graphics salary, doing what I enjoy and making my work more relevant?
Motion Graphics Salary: Traditional working methods
I started doing some research on the labor x client relation, based on the different ways that most Motion Designers rely on to work, looking for a consistency that would somehow justify the worthiest one, while giving me more motivation as well. I encountered the following scenarios:
Working as an employee in a Production Company or a Motion Graphics Studio
I have always worked as a contracted employee in producers and, in that case, someone paid my motion graphics salary to use my business hours (and often going beyond that threshold) to perform the several jobs on the clock.
Sometimes there were 5, other times we had 10, perhaps even 15 jobs from different clients per month. Deep down, the client was always the same for me: it was my boss.
Consequently, all my efforts were to make him recognize that I had an amazing work and perhaps he could raise motion graphics salary, why not? (I don't want to be unfair to anyone, but I don't recall having earned a raise just for recognition alone, I had to ask for it, and sometimes I even begged.)
Often, the end customer didn't have a clue about my existence and, if they did, they would never pay me directly for the work done.
Each market has a different reality, but the average Glassdoor in 2018 shows that a professional working in this field earns $63K/year.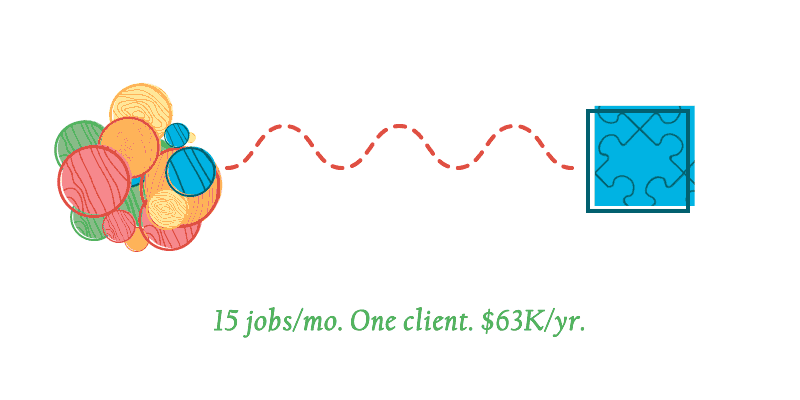 Working as a freelancer
For many who have 8-6 steady job, working with motion graphics as a freelancer is a nothing short of a dream. A life without a schedule, having the option to pick the projects they want and earning in a single job what one would have as a monthly motion graphics salary when employed. Well, perhaps that's not the reality of all freelancers, but the labor x client relationship is different indeed.
Even those who can cope with three, five jobs at the same time, each one takes a time slot, and that work serves only one client, i.e., the one who is hiring the freelancer. This client is the one who must be surprised. Skilled and talented freelancers can earn on average $65K/year according to the School of Motion.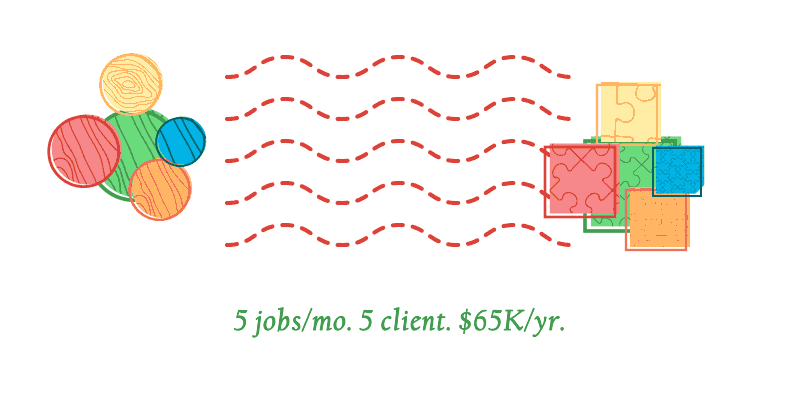 It was very interesting, but at the same time, I considered that I would have to work a number of hours higher than the average of most professions to keep that pattern, and that I would have to be extremely frugal to safeguard a good retirement, particularly as a freelancer, because if there is no work, there is no money.
But when I pondered the work required to develop each motion graphics job, the hours I would have to put into it, just to have that project forgotten and shelved in some dark corner of my portfolio, the conclusion about that equation is that it was not right as well.
It was a lot of work for a few clients, giving me an average result. And, worse than that, adding almost no relevance to the lives of those who were targeted by those videos. After all, is there someone who doesn't count the seconds until they can skip YouTube ads?
How to reverse that 'one job x one client' relationship, earn more money and make the work more relevant to those who consume it?
I started to wonder about what the best motion designers were doing to address this issue. I began to look at guys like Andrew Kramer of Video Copilot, Nick Campbell of Greyscalegorilla, Joey Korenman of School of Motion, Michael Jones of Mograph Mentor.
Their stories were all alike, they had once been talented motion designers, freelancers or hired by large studios, but they now created courses, content, plugins that make people forget how the world was before them, like Element 3D, created by a Motion Designer for Motion Designers.
These jobs serve hundreds of thousands of clients, agencies, brands, but, particularly, other artists related to motion graphics. Isn't creating things that make the lives of professional colleagues easier something motivating?
All these stories inspired to begin to create my own solutions to help other motion designers, but then something crossed my mind: I was not a developer, teacher, and I didn't have other skills that appeared to be crucial to creating what they had created. I was just a motion designer.
That was when I received a referral to a job that I needed to do and, at first sight, I had not understood very well what that was: Photo Gallery on a Sunny Afternoon. (some of the links shared on this blog can be part of affiliate programs. In other words, if you buy some products that I'm sharing here, I can earn a tiny commission, without burdening you with extra fees. It's important to make this clear. )
Its simplicity caught my attention, that was something that I did on a daily basis. Okay, tracking, composition, it's not the best translation for 'motion graphics', but it's something so simple, and can be so useful to so many people!
At first, I thought that Videohive was some kind of powerhouse producer which created hundreds of templates to sale them. But, after taking a closer look, I realized that they were artists around the world, people who created these projects and sold them, giving a percentage to the pro marketplace. The author earns 50 to 75%, depending on the total volume of sales.
Our friend BlueHatDesign surely earned 75%, that is approximately $25,00 per license. At that time, this project had been sold more than 5,000 times, and is still selling as we speak!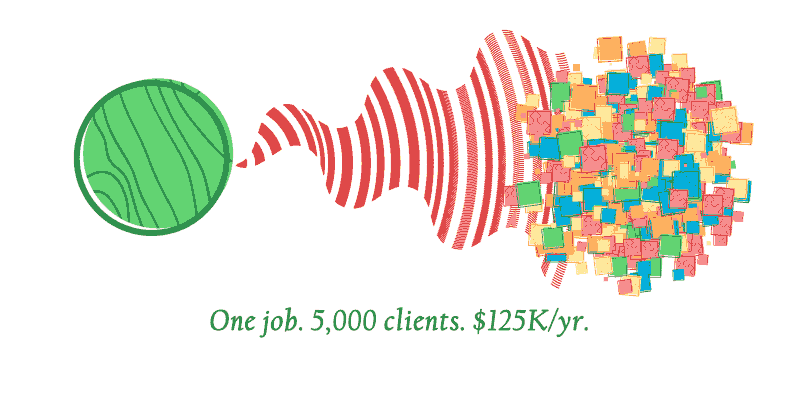 Yeah, I know that he didn't sell that whole lot in just one year, but he surely didn't need a full year to develop this job. I would say he took less than a month to make it rev, but the idea was the differentiating factor in this case. It was something simple, helpful and very profitable. I went crazy thinking about the possibilities, I had all the skills to make a project like that.
Creating my own jobs
I started studying how things worked, I had to understand the marketplace's rules and details. I gave a fresh breath of life into a project that I was doing to learn how to make a net sway when a ball hits it. I quickly turned it into a football logo reveal, I rendered it, published it and then went to sleep at 4 am.
When I woke up the next day and the project had yet to be accepted. However, there was a reason for that, I had forgotten to attach a file and the project told me that there was 'missing footage' whenever it was opened. At night, after fixing the problem, I published it again and went to sleep.
Early in the morning, I checked my inbox, there was a Videohive message saying that the project had been approved, 10 other emails from comments of other users, congratulating the project… and 4 sales!
The feeling of creating a product that is useful and marketable to other artists was extremely good. Today, the Soccer Scoring Soon Revel is reaching 1.000 sales. Not a single customer requested any change because they didn't like something, quite the opposite, they asked for customizations and, when that happens, I can charge for it. This has opened a new business window for me that I never considered initially.
Conclusion
Our work is only limited by our own ideas. We can create a job for 1 or 10.000 clients, perhaps even more than that.
Now I still enjoy creating videos for unique clients who will have their need for communication fixed at a specific time, but my feeling in relation to the jobs I have done and made available to other artists when the need emerges is different.
They are unique and eternal. And I earn money with them every day. Today I work as a Motion Graphics and earn more money. How much more can I earn? I establish this limit and it only depends on my creativity and determination.
My quest goes on, I know that Videohive is not the only way to scale my projects, there are many others and this blog will be a tool, allowing me to share what I learn during this journey. I invite you to walk beside me so that we can discover these possibilities together.